Original Music For You Media
Hello. My name is Arman Mkhitarian. I am the owner of Spacer Music Brand. I produce sample packs, music for media and also stock music. It is fit for various types of media (ads, commercials, intro, corporate videos, vlogs, blogs, travel videos, Shortfilms, cartoons, games Etc). Feel free to share and leave your opinion. I am also available for a freelance work! Thank you.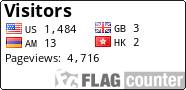 VideoHive Artists! Your free to use any of my tracks, just let me know and I'll paste a link to the video you use it in.
Public Collections
View All Collections